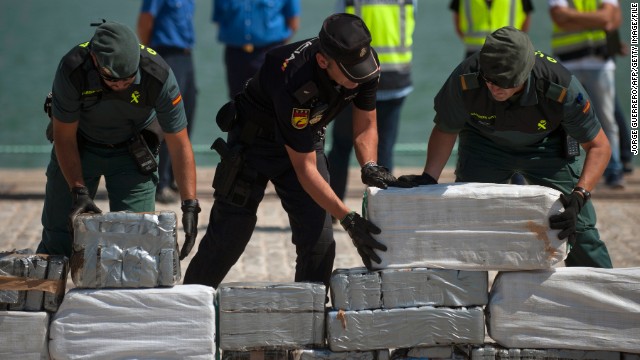 By Katie Hunt, for CNN
updated 2:15 AM EDT, Tue October 1, 2013
Hong Kong (CNN) — The global war on drugs is failing, new research suggests, as the price of heroin, cocaine and cannabis has fallen while their purity has increased.
Using seven sets of government drug surveillance data, a team of Canadian and U.S. researchers reviewed drug supply in the United States, Europe and Australia and drug production in regions such as Latin America, Afghanistan and Southeast Asia.
They found that illegal drugs have become cheaper while their potency has increased, indicating that efforts to control "the global illegal drug market through law enforcement are failing."
"During the past two decades, the supply of major illegal drugs has increased, as measured through a general decline in the prices and a general increase in the purity of illegal drugs in a variety of settings," said the study, which was published by BMJ Open, an open-access journal published by the British Medical Journal.
In the U.S., the average price of heroin, cocaine and cannabis decreased by at least 80% between 1990 and 2007, while average purity increased by 60%, 11% and 161% respectively.
Similar trends were seen in Europe over the same period, while in Australia the price of cocaine, heroin and cannabis fell by 14% to 49% between 2000 and 2010.
"These findings add to the growing body of evidence that the war on drugs has failed," said Dr Evan Wood, scientific chair of the International Centre for Science in Drug Policy and research chair in Inner City Medicine at the University of British Columbia in Canada.
"We should look to implement policies that place community health and safety at the forefront of our efforts, and consider drug use a public health rather than a criminal justice issue," added Wood, who was also one of the research team that produced the study.
Prices fell despite a general increase in seizures and a fall in production of some illegal substances, the study added.
READ: War on drugs a trilion-dollar failure
Seizures of cannabis by the U.S. Drug Enforcement Administration increased by 465% between 1990 and 2010, heroin seizures increased by 29%, but cocaine seizures fell by 49% over the same period.
The researchers did concede their source data had limitations, with price and purity patterns a marker of drug supply that does not capture other factors that determine the availability and use of drugs.
However, the report findings demonstrated "a general global pattern of falling drugs prices and increasing drug purity and potency, alongside a relative consistent pattern of increasing seizures of illegal drugs."
Campaign groups said the study showed that drug policies needed to be grounded in science, health and human rights rather than prohibition.
"The punitive prohibitionist approach to global drug control has proven remarkably costly, ineffective and counterproductive," said Ethan Nadelmann, director of the U.S.-based Drug Policy Alliance.
"It has generated extraordinary levels of violence, crime and corruption while failing to reduce the availability and use of psychoactive drugs."